Features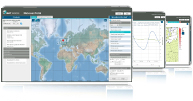 On-site Meteorological Support
The way decisions are made during weather-sensitive marine operations can cost valuable time, affecting safety and operational efficiency.
Marine Site Forecasts
From general weather, wind and wave outlooks to more detailed reports, we provide forecast services to meet all requirements.
Storm Warning and Tracking Services
Our weather desk actively monitors tropical storm areas 24/7 and sends out advance warnings to customers whose operations are likely to be affected.
Tow-Route and Routing Forecasts
By providing timely weather and routing forecasts Infoplaza Marine Weather helps towage operators to transport valuable cargo safely. Our experienced meteorologists issue forecasts up to four times a day and offer 24/7 support.
Wind Power Forecasts
Infoplaza Marine Weather supports the renewable energy sector by providing the metocean and maritime expertise for designing, installing and operating offshore, subsea and coastal wind farms worldwide.
Emergency Response Forecasts
Offshore oil spills, search and rescue operations and fires are all affected by marine weather conditions. Successful outcomes in these events depend on the decisions made in the first few hours.
Contact Us
Infoplaza Marine Weather
Sleepboot 5
3991 CN Houten
The Netherlands

Tel: +31 (0)527 769 105
General Enquiries
info@bmtargoss.com
Visit the Contact Us page for more details.
Forecast Data Module
Infoplaza Marine Weather weather forecasting provides a Forecast Data Module in which relevant information can be found for each individual client's working location. This information consists of, amongst others, the latest issued operational weather forecast and actual weather warnings for the working location(s) and other information such as tidal data and times of sunrise and sunset.
Besides this site specific information overviews of the greater region can be found in the module, for example charts with (all kind of) model data, synoptic charts and satellite imagery. Also observations (Metar, Synop) and short range forecasts (Taf) of other locations in the vicinity of the working area are available.
The data in the module is updated routinely with the latest available information.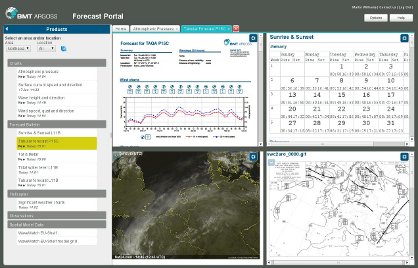 Screenshot of the Forecast Data Module showing a tab page with the daily forecast report (PDF), Sunset/Sunrise tables, Meteosat satellite image and significant weather chart
Login
Information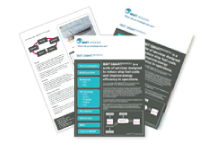 Free service information available for review at your leisure.