Features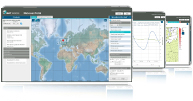 Integrated MetOcean Data
High quality, fully validated MetOcean data enables better understanding and enhances analysis quality.
Performance Coefficients
Isolate the cause of performance degradation and quantify changes over time.
On-Board KPI Trending
Create performance targets and improve on-board awareness through easy to understand traffic light indicators.
Trim Advice
Optimise trim to improve vessel efficiency and reduce fuel consumption.
Contact Us
Infoplaza Marine Weather
Sleepboot 5
3991 CN Houten
The Netherlands

Tel: +31 (0)527 769 105
General Enquiries
info@bmtargoss.com
Visit the Contact Us page for more details.
Downloads
Free product information available for review at your leisure. For more downloads please visit the Infoplaza Marine Weather home page on http://www.bmtargoss.com/downloads/.
Login